Pension change will save little, IFS says
31 January 2012

From the section

Business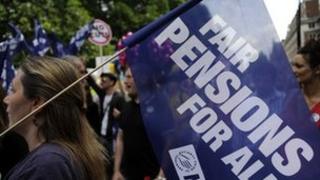 The government's latest public sector pension changes will make "little or no difference" to their long-term cost, an economic think tank has said.
The report by the Institute for Fiscal Studies (IFS) refers to the most recent pension negotiations.
However, it points out that an earlier decision to change the inflation link for pension increases has substantially reduced costs and expectations.
Unions point out that, overall, public workers must pay more and work longer.
The government has said the latest offer would be the final deal on the table, and that overall its public sector pension policy was fair and would save the taxpayer billions of pounds.
Generosity
A key element of the government's most recent proposals is that the normal pension age in the biggest public sector pension schemes should in future rise in line with the state pension age, eventually to 68.
The IFS said that this would not in fact save as much as expected.
"In general, lower earners in the public sector will actually get a more generous pension as a result of the recently announced reforms," the IFS said.
"That is, they will be able to retire at age 65 with a higher annual pension than they would receive under current arrangements.
"This results from the move from final salary to career average schemes and the particular changes to accrual and indexation rules," the IFS added.
The report bases its conclusion on an analysis of the latest proposed changes to the NHS pension scheme.
The IFS then used this to make best estimates regarding public sector pensions in the absence of official government data on the costs.
'Pay more, work longer'
The structure of public sector pensions had been improved by the latest proposals, the IFS said.
But the government's decision in 2010, for pensions to rise in line with the Consumer Prices Index (CPI) rather than the Retail Prices Index (RPI) was much more significant for costs and generosity.
"The reforms to public service pensions implemented by the last Labour government, and this government's decision to switch from RPI to CPI indexation of pension benefits, will in the long run reduce the generosity and therefore the cost of these schemes to the taxpayer," said Carl Emmerson, deputy director of the IFS.
"But the consequence of the long-drawn-out negotiations over the latest reform appears to be little or no long-term saving to the taxpayer or reduction in generosity, on average, of pensions for public service workers."
The TUC's general secretary, Brendan Barber, rejected this analysis.
"If you take the package as a whole there can be no doubt that many public sector workers may have to pay more, work longer and get a pension that will not keep up with the proper measure of the cost of living," he said.
The report said that lower earners in the public sector were better protected from the impact of the government's impending changes than higher earners.