EU prepares to ban imports of Iranian oil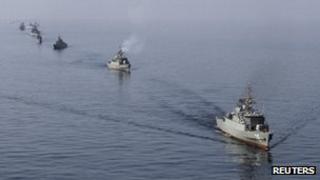 European Union foreign ministers will meet on Monday to finalise plans to place an embargo on oil from Iran, intensifying pressure on Tehran to stop developing its nuclear industry.
It is thought that the EU will implement the ban in July, allowing refineries time to buy crude from other countries.
Iran has threatened to block the Strait of Hormuz, where a fifth of the world's oil is transported.
Western governments claim Iran's nuclear programme has military aims.
The threat from Tehran to use its navy to stop oil shipments through the Strait of Hormuz, prompted the US, which has a navy base in Bahrain, to say it would keep the trade routes open.
Manouchehr Takin, senior petroleum analyst at the Centre for Global Energy Studies, told the BBC these developments had pushed up the price of oil on the energy markets.
"Many people have already [got] positions. The price is up now partly in the anticipation of something happening and disruption because of the European ban on oil purchased from Iran by European companies," he said.
'Not acceptable'
China, India, South Korea and Japan are important export markets for Iran's oil industry.
Last week, during a visit to Japan, UK Chancellor George Osborne discussed the UK's oil trade with Iran, saying, "It is not acceptable for them to continue to develop a nuclear weapon."
In addition to expressing western fears that Iran's nuclear programme has military aims, Mr Osborne also pressed the Japanese to stop buying oil from Iran.
"The British government appreciates Japan gets up to 10% of its oil from Iran, so it's not easy to switch supplies," he said.
According to the International Energy Agency, Iran produces about three million barrels of crude oil a day and more than half of that output is sold to countries in Asia.
Mehdi Varzi, the president of Varzi Energy, himself an Iranian national, told the BBC's World Business Report that the oil trade with Asia is vital to Iran.
"The Asia Pacific region is Iran's most important market for its crude oil exports, if we take China, India, South Korea and Japan together. So obviously if pressure is exerted on these countries to reduce their purchases that would be very serious," he said.
Financial sanctions
The EU is also expected to put the squeeze on Iran's central bank, freezing its assets.
India especially has encountered problems paying for Iranian oil, because US sanctions prohibit banks from dealing with Iran.
Mr Varzi recognises international pressure is damaging Iran's economy.
"Many people are suffering. Unemployment is rising, inflation we know has shot up over the last few months," he says.
"We know that the rial, the Iranian currency, is down 20 to 40% against the US dollar in the last few months. Factories are closing, it's a very serious issue."
However he is unconvinced that it will tame the defiant government in Tehran.
"It's putting enormous pressure, but whether that pressure is sufficient for Iran to make a U-turn on its nuclear policy is altogether another question - I doubt it," he says.
Olivier Jakob, oil analyst from PetroMatrix, has an interesting take on the political moves between Tehran, Brussels and Washington.
''If new negotiations are to take place between Iran and the West, then the EU will want to officially announce an embargo, then claim that the negotiations are a result of the announced embargo,'' he says.
The influential US investment adviser, Dennis Gartman, has reminded his clients about the Tunb Islands in the Gulf, seized by Iran a few decades ago, despite a rival territorial claim by the United Arab Emirates.
"They were nothing more at one time than mere outcroppings in the middle of the Persian Gulf, [but] now for Iranian army and navy forces these islands are staging points for potential military mischief in the Gulf," he says.
"Tankers pass within a mere few miles of both islands.''
His advice to investors is to file the name of Tunb Islands away for future reference.