Comet saw poor Christmas sales, Kesa says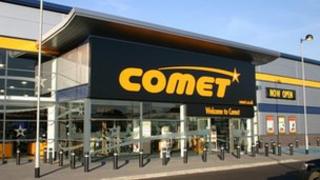 Electrical goods retailer Comet had a poor festive trading period, its owner Kesa Electricals has said.
Like-for-like sales at Comet for the 10 weeks to 8 January fell by 14.5% compared with a year earlier.
In November, Kesa announced that it was selling Comet to a private equity firm for just £2.
But given Comet's weak performance, Kesa said net debts at the business would increase by up to £10-15m, which would hit Kesa and not the new owners.
The sale is due to be completed on 3 February.
Like-for-like sales across the Kesa group, which also owns the Darty brand in continental Europe, fell by 1.3%.
Earlier this week, Dixons Retail, which owns Currys and PC World in the UK, reported a 7% drop in sales in the UK and Irish Republic over the 12 weeks to 7 January.