Indonesia's young struggle to find permanent work
16 December 2011

From the section

Business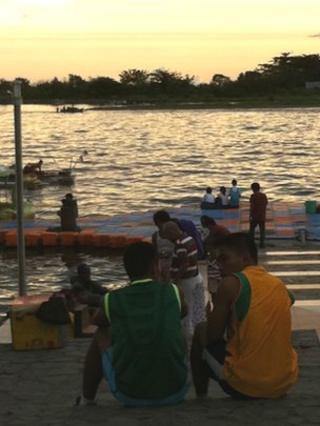 Dawn breaks quietly at the Paotere port in Makassar.
All you can hear is the steady hum of the fishing boats, as the city's fishermen head out for a long day at sea.
It is a difficult and exhausting life, but one that helps them make ends meet.
At the local market, some of the fishermen have already returned to shore, their boats laden with goods to sell.
Traders haggle with each other over the best price, cracking a few jokes along the way.
It seems a jovial place, but the Bugis are known throughout the archipelago as some of Indonesia's most savvy businessmen, and they drive a hard bargain.
Makassar has always been at the centre of trade and commerce in Indonesia.
In the 16th Century, it is thought, the Makkarese kings were proponents of free trade, allowing any one who visited the city to do business here.
In Indonesia, it is often said that business runs in the blood of the Bugis people.
But these days it is getting harder and harder for the youth of Makassar to find work, so they end up doing odd jobs or fishing to make a living.
Informal business
You do not have to look too closely to see that most of the fishermen at Paotere port are young, between 15 and 25 years old. Some of them are as young as nine or 10.
Most of the boys have probably never been to school, or if they have, they left pretty quickly.
This part of Indonesia has one of the higher youth unemployment and high school dropout rates in the country.
Many of the young people here end up falling through the cracks.
That is why the International Labour Organization (ILO) chose South Sulawesi to implement its technical training programme.
Some 1,500 youths from the province have gone through the training. Many of them are now able to set up their own informal businesses.
Life-changing training
Take Wardha, 22, for example. She is one of the lucky ones. Just over a year ago, she and her mother were destitute, barely able to survive.
Today she is the proud owner of a mobile phone repair shop.
"I thank Allah every day," says her mother Sakia, 45, wiping tears from her eyes as she speaks.
"I thank Him that I have a daughter like Wardha, who is able to be strong and look after us. We are so very lucky."
The emotion is palpable on Wardha's face as well, as she breaks down while recounting her difficult past.
"We had nothing, no one," she says as she struggles to regain composure.
"Then I got training from the ILO and learned how to repair mobile phones, and my life changed."
Legitimate business
Wardha has managed to buy a new home for her young family. A new baby to look after keeps her on her toes and has added to her responsibilities.
Still, with all this newfound success there is no security working in the informal sector, so she wants her business to a legitimate one.
"Getting bank loans, raising capital - all of that is very difficult if you aren't registered," says Wardha, as she serves yet another customer at her store.
"If I can, I want to register my business so it becomes a legal entity. That way it will be easier to get a bank loan, but I don't know how to do that."
Most Indonesians never even have the chance to think that big, however.
You can see many of the victims of this country's youth unemployment crisis at traffic junctions in Jakarta.
Millions of young people leave their homes in the villages for the capital city every year to try and find work. Most of them enjoy little success.
'Proper job'
During rush hour at one of the major roundabouts in the city, Rasdi, 21, is busy touting his magazines about the rich and famous.
His wealthy Jakartan customers are locked away inside their air conditioned cars, so he is tapping on their tinted windows to get their attention.
Rasdi had big dreams when he first got to this city five years ago. He wanted to work in an office.
But he never finished high school, and did not have the right qualifications, so he could not get a job.
"I just want a job that fits my abilities," he says as he scouts around for customers.
"A proper job, not like this, but I only have an elementary school education so it's impossible to even think like that."
Young labour force
It is a problem that plagues the rest of Indonesia too.
Back in Makassar, families throng the city's main beach front in the evenings.
They come here to rest and relax, watching the unemployed teens playing their guitars in an attempt to make some extra cash.
Indonesia is home to the world's fourth largest population of young people, according to the World Bank, but it is also struggling to cope with high youth unemployment rates.
Some estimates say that more than half of the working population is employed in the informal sector, meaning that for many of Indonesia's youth, odd jobs are the only way to make a living.
This is an exceptionally young country, and so full of possibilities, but the full potential of Indonesia's youth has yet to be realised.
The challenge, then, is to tap this huge source of talent - so that young Indonesians get a shot at making it in life.