New £50 banknote in circulation
2 November 2011

From the section

Business

comments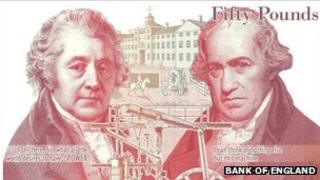 The new Bank of England £50 banknote featuring Matthew Boulton and James Watt has entered into circulation.
The pair feature on the new note partly because they were instrumental in manufacturing coins that were difficult to counterfeit.
The banknote, which includes a number of new security features, will eventually take over from the note carrying Sir John Houblon's portrait.
But that remains as legal tender until a withdrawal date is set by the Bank.
The Houblon note, marking the contribution of the first governor of the Bank, was introduced in 1994.
Security
There are about 210 million £50 notes in circulation, worth £10.5bn.
The new version of the £50 banknote has a thread woven into the paper, rather than printed on it.
There are images on the thread of a £ symbol and the number 50 which move up and down when the banknote is tilted from side to side.
When the note is tilted up and down, the images move from side to side and the symbols switch.
History
This is the first time that two portraits will appear together on the reverse of a Bank of England banknote.
Boulton and Watt were most celebrated for bringing the steam engine into the textile manufacturing process.
However, staff at Birmingham Central Library, which holds a significant collection of letters, books and other items relating to the duo, explain that Boulton and Watt were also key to dealing with problems with money in late 18th Century Britain.
There was a coin crisis in the 1780s and the economy was being flooded by counterfeit coins.
In 1788, Boulton set up a Mint in Birmingham, powered by the pair's steam engine, which manufactured coins that were difficult to counterfeit.
"Boulton and Watt's steam engines and their many other innovations were essential factors in the nation's industrial revolution," said Bank of England governor Sir Mervyn King.
"The partnership of an innovator and an entrepreneur created exactly the kind of commercial success that we will need in this country as we rebalance our economy over the years ahead."