Minifigures and Moshlings are big in the toy world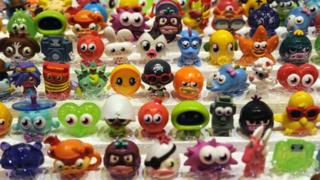 Price a toy at less than £2 and you might expect it to be popular at a time of squeezed household budgets - among parents at least.
But it seems that children too are big fans of the collectable mini figurines sold in blind packs for pocket money prices.
Small has become big in the toy world.
Lego's Minifigures are ranked by industry analysts NPD as the biggest selling toy by value in the UK in the first nine months of the year.
But if mums and dads start to budget for a cheap Christmas, then they should think again, because small, cheap dolls need more expensive places to live.
There were no £1.99 Moshi Monsters on the Toy Retailers' Association's list of predicted best Christmas sellers this year. Instead, the Moshling Tree House - a plastic display case for the little characters - did make it onto the list and is priced at £19.99.
"These mini toys are a growing trend, which is perfect for the stretched consumer," says Frederique Tutt, a toy industry analyst for NPD.
"But it is common for manufacturers to increase the price point for Christmas."
Swap shop
The success of pocket money toys is the result of adapting some old playground favourites.
In the past, items ranging from football stickers to Pogs - a set of pictured discs - tapped into primary school pupils' love of collecting and swapping with their friends.
But while there were only a finite number of players to stick in a World Cup football sticker album - the latest generation of collectable minifigures is showing some sharp population growth, and are being aimed at boys and girls.
Lego is launching three sets of 16 different characters each year in its Minifigures range. German toymaker Playmobil has just unveiled its own collection of tiny toys - from an American footballer to a mermaid.
Representatives of one manufacturer, which has so far steered clear of pocket money toys, say that it has become an extremely crowded market.
But those involved think that children's appetite to collect more and more of these figures mean money can be made, even at low prices, so the pace of renewal has become relentless.
"They have become very influential," says Alan Simpson, acting chairman of the Toy Retailers' Association.
"When children trade in the playground, they become the traders of tomorrow," he adds, perhaps at risk of putting off some parents with a dim view of today's City traders.
However, Sean O'Donoghue, president of the Association of Educational Psychologists, says that there is a danger that some of these collectable items can be a distraction in schools, if children are trading them during lessons.
There is also evidence, especially among boys, of bullying if one youngster has one figure, or toy, that others might want.
Mystery
A recent survey by the Co-operative suggested more families were planning to cut back on their Christmas spending this year, so these low-price minifigures might make it into quite a few stockings.
The anticipation of unwrapping something hidden is another theory for the success of these small toys.
The grammatically abhorrent question mark in Playmobil's Fi?ures set is the clue that these toys are sold in blind packs. Children do not know which little doll they will get until they buy a packet and open it.
Obviously, that means children may keep buying in an attempt to finish a set, even if it leads to lots of duplicates.
But for manufacturers, it cuts the cost of making different packaging, says David Buxbaum, marketing director for Lego.
"It is easier to manage and pulls down the cost," he says.
The little figures are also cheap to manufacture as they are put into packets in attachable parts which youngsters then assemble.
He says that the UK has been Lego's most successful market for the Minifigures, with the state of the economy one possible reason for these low-cost toys being popular.
Back among the Moshi Monsters, Emma Weber - of Vivid Toy Group - says that a strategic decision to make some characters less common helps feed the collectability market. A purple monster called Iggy is the rarest among the range of 72.
This was no different in the days of football stickers when playgrounds were awash with the rumours about who had "a Kenny Dalglish".
But while some things stay the same in the pocket money collectables market, some things certainly change.
Many of these toys are not just plastic figures in a packet, they have their own virtual lives online.
"Website activity is quite clever marketing," says Frederique Tutt.
Millions of children visit the Moshi Monsters website to adopt a character, feed it, play puzzles with it and send it on adventures.
You could never do that with Kenny Dalglish.