Carmaker Toyota cuts output after Thailand floods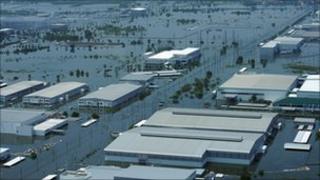 Carmaker Toyota is cancelling some production in Japan, because of a possible shortage of parts from flood-hit Thailand.
The firm plans to suspend planned overtime work at a number of its factories, spokesman Dion Corbett told BBC News.
It expects to lose 6,300 units of car and truck production as a result.
Mr Corbett said the cutbacks were meant to avoid a possible shortage of auto parts from Thailand.
"We expect there could be a shortage of auto parts, that's why we took this pre-emptive move," he said.
The worst flooding in Thailand in decades has killed more than 360 people and forced many businesses to shut down.
Toyota's latest cancellation is on top of the estimated 37,500 units in lost output from its three Thai assembly plants, which have been shut since 10 October.
Those plants remain closed.
Factories and supply chains are facing disruption as the flooding affects Thailand's economy.
Western Digital, Honda Motor and many other companies have been forced to suspend production in central Thailand because of the floods.
The finance ministry says the economic damage could run into billions of dollars.