Inbetweeners Movie boosts Cineworld box office sales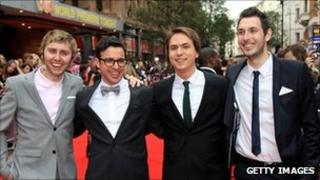 The Inbetweeners Movie, the spin-off of the Channel 4 sitcom, has driven growth in box office sales at Cineworld.
The company said box office sales for the year to 20 October were up 1.4% on a year ago.
It said the most notable performance had come from The Inbetweeners Movie, which had grossed more than £44m and had "nearly matched" the success of Oscar-winner The King's Speech.
Cineworld is the UK's largest cinema operator with 78 sites.
Other big hitters at the box office include Harry Potter and the Deathly Hallows Part 2 in 3D, Transformers: Dark of the Moon in 3D, Rise of the Planet of the Apes and Bridesmaids.
The popularity of 3D films appears to be growing, with admissions rising to 18% of total admissions, from 16% in the first half of the year.