Calls for limits on mobile bills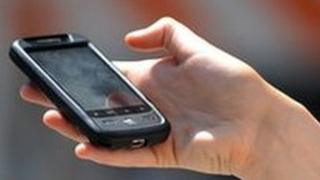 Some mobile phone users who face huge bills after their phones have been used by criminals to call abroad want firms to introduce caps on accounts.
Radio 4's Money Box has spoken to several students who faced bills of up to £1,500 following the theft of their phones.
They were used to call countries such as Pakistan, Afghanistan and Egypt.
The mobile phone industry says caps are impractical because of the complexity of their billing systems.
Sam, who is in his early 20s, is deaf and only uses his mobile to text.
He has an average monthly bill of about £30, but last year when he was a student he mislaid his phone.
By the time he had told his mobile company someone had run up £1,500 worth of calls.
Orange said he needed to pay up, despite the fact that Sam had never made a call on a mobile phone in his life.
As he told Radio 4's Money Box programme: "It's a bit funny that Orange told me to pay for phone calls. I'm completely deaf. I can't hear on the phone."
He eventually had the money written off after a concerted campaign by his father, Paul.
Paul believes the phone companies should copy the banks and cap the amount that can run up on an account.
"They should have a limit. I have a credit card, if I go and spend £10,000, I'll not be able to," he said.
Tom, from London, was less lucky when he lost his phone after a night out. He said: "The person who had found or taken my phone had texted my friend and asked them to send my address so they could forward it to me. I believed them, and gave them my address expecting it to turn up in the post."
But Tom's misplaced trust and his delay in alerting Orange to the loss of his phone was to prove very expensive to him indeed.
He explained: "They'd been phoning Pakistan, Afghanistan and Greece. Orange then told me I'd have something in the region of an £1,100 phone bill."
Tom offered to pay half the money because he believed Orange should have spotted that this average monthly bill of about £30 was spiralling into hundreds of pounds and blocked his phone.
But Orange said it wanted the full payment, and Tom had to set up a payment plan to pay off the £1,100 bill.
Fraud prevention
Orange said it tries to prevent this sort of fraud but ultimately it is the responsibility of the customer to alert them when their phone is missing.
"Orange monitors for unusual usage and when unusual call patterns are flagged by the system, we take appropriate action as and when required," the firm said.
"However, it is the customer's responsibility to tell us as soon as their phone has gone missing, as only then can we prevent calls being charged to their account," Orange added.
The same thing has also happened to Maddy, a student in Edinburgh, and a customer of T-Mobile.
She lost her phone in a nightclub. "They said a couple of phones had been handed in, but lost property wasn't open until Monday. Once I did manage to get in touch with them, it was obvious mine wasn't there," she said.
In the meantime £900 had been run up on Maddy's phone in calls to Egypt and other countries in the Middle East.
Detection techniques
T-Mobile initially offered £50 towards the bill, and then offered to pay 25%, but Maddy says as a student even £600 is far more than she can afford to pay.
T-Mobile said: "In Maddy's case, a bar was placed on her account as soon as our fraud detection system identified suspicious activity from her mobile phone, which took place before the customer reported the mobile phone as lost or stolen.
"We review each situation on a case-by-case basis and feel we have offered Maddy a resolution which we believe to be fair."
Mobile operators say customers can put a bar on calls abroad and should seek an immediate temporary stop on their account if they have any concerns at all that their phone has been lost or stolen.
Neither Orange nor T-Mobile puts a cap on the amount that can be spent on customer accounts and other mobile phone operators Money Box spoke to said that capping calls was impractical.
Ofcom investigation
O2 said: "We can't guarantee being able to bar the phone quickly enough owing to the time it may take for call records to reach our billing system. This is why our terms state that the customer is liable for all charges and must report the loss/theft of a Sim card straight away."
In May, the communications regulator Ofcom launched a consultation over unexpectedly high bills, including those caused by fraud.
Lynn Parker, Ofcom's director of consumer protection, said it was exploring different options: "Clearly the responsibility is with the consumer to report this as soon as possible. The difficulty lies in the period of time when the consumer may not have noticed the phone has gone missing and calls are made.
"At the moment the providers deal with this on a case-by-case basis so we are looking at what other things can be done."
BBC Radio 4's Money Box is broadcast on Saturdays at 12:00 BST, and repeated on Sundays at 21:00 BST.