Royal Mail to get power to set stamp prices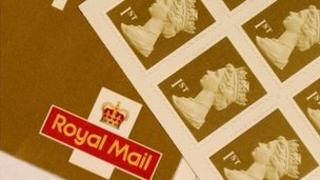 Royal Mail is to be given the power to change the price of all first class and some second class postage.
The proposals come from the regulator Ofcom, which took over from Postcomm earlier this month. It said the changes were needed because of "huge changes" in the industry.
The only price capped would be the charge for second class letters, which is currently 36 pence.
Royal Mail is being prepared for privatisation.
The government plans to sell up to 90% of the business, with the rest being offered to employees.
European Union regulators are currently considering government plans to relieve Royal Mail of its multi-billion pound pension deficit before selling it.
Royal Mail made a £120m loss from its letters business last year.
Ofcom said its proposals were designed to make sure UK consumers continued to benefit from an affordable, universally-priced postal service six days a week.