Citigroup settles charges of misleading investors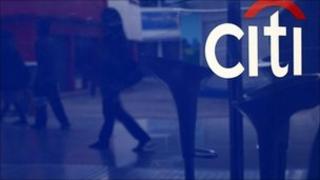 Citigroup is paying $285m (£180m) to settle civil fraud charges from the Securities and Exchange Commission.
The SEC said that Citigroup misled investors when it invited them to invest in a product based on US mortgage debt.
It said that Citigroup did not inform investors that it was betting on the value of the investment falling or that it had chosen the assets itself.
Citigroup settled without admitting or denying the charges.
Credit Suisse was also involved in the transaction and has paid $2.5m to settle the case, also without admitting or denying the charges.
The SEC said that Citigroup built a collateralised debt obligation, or CDO, made up of about $1bn of home loans in 2007.
It alleges that Citigroup sold the CDO to investors, but took a short position itself, betting that the value of the assets would fall.
"The securities laws demand that investors receive more care and candour than Citigroup provided to these CDO investors," said Robert Khuzami from the SEC.
"Investors were not informed that Citigroup had decided to bet against them and had helped choose the assets that would determine who won or lost."
The CDO defaulted within months, leaving the approximately 15 investors facing losses while Citigroup made $160m in fees and trading profits.