India's rural poor battle with price rises
16 October 2011

From the section

Business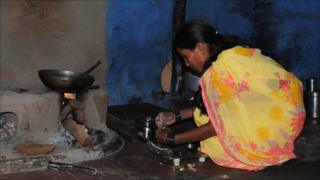 It is a hot, still afternoon in Bhivri village in rural Maharashtra. The sun beats down on a small mud-brick house that sits atop a small hill in the middle of a farm.
Inside Sonali Borade kneels over an open fire and cooks roti, or wheat bread. Sonali is preparing a lunchtime meal for her family of six and it is far from indulgent: dry rotis and a stodgy mix of crushed pulses.
The cost of food in areas like Bhivri village has risen substantially over the past year. Popular green leafy vegetables that used to cost five rupees ($0.10), now cost 13 rupees ($0.27), the per kilogram cost of pulses has also risen by $0.40 to $0.60.
Over the past year people in areas like Bhivri have slowly, but conscientiously, curtailed their consumption of oil, sugar and pulses.
Sonali, a young slender woman in a bright yellow sari, explains that soaring food prices have made her regular trip to the market an unpleasant experience.
She can no longer afford to buy enough of the expensive vegetables she likes to feed her large family: "When I go the market I have to think twice about what I will buy. High prices mean I can't buy many expensive ingredients. So now I opt for cheap vegetables. That's the only way I can buy enough to feed my family."
To deal with soaring prices Sonali says she has drastically cut her visits to the local market. She is now trying to cook only with the vegetables her family produces on their farm.
Asked if there was any thing else that she could cut out of her kitchen to keep food expenses down Sonali said that her family was already down to eating just the bare basics.
Any further cuts, she adds, and they will be eating nothing at all.
Tomato giveaway
Across the road from Sonali's home Shantaram Tukaram Katke works in his tomato patch. He has been tilling this land for more than three decades.
Over the years Shantaram has built a healthy and substantial farm, one that produces grains, nuts and a variety of vegetables.
Shantaram produces eight to 10 tonnes of tomatoes every year. But despite good harvests he says it is very difficult for him to make a decent living.
The farmer invests around $715 a year. He uses this money to buy raw materials, pesticides and fertiliser.
However Shantaram claims that it is becoming harder for him to recoup this investment and make a profit. If he gets a stable - and sustainable - rate for his produce he makes around $1700 a year.
"Pesticides and other raw materials are really expensive these days. With input costs so high and the market rate for my produce unpredictable, I'm hardly making a stable living. Farmers like me are not getting good returns."
After doing the maths Shantaram claims that on average he is left with around $1000 to feed, cloth and shelter his family; a meagre amount in these tough times.
Shantaram explains that the agriculture business in these parts of rural India is very unpredictable and unstable. Low prices also mean that farmers like him lose out to big firms that are keen to buy ingredients like tomatoes at ridiculously cheap rates.
When the market rate for such produce slumps, Shantaram says companies that use tomatoes in their products come and buy his tomatoes in bulk, tonnes and tonnes at a time.
He concedes that it is still better for him to sell, albeit at a very cheap rate, than be left with rotting stock.
In rural Maharashtra life is far from easy for those who work the land and rely on it to earn a living.
So tough Shantaram adds that many farmers in the area have reluctantly re-skilled and taken up other jobs like plumbing to make ends meet.
A meal a day
Families across India may be struggling to put nutritious meals on their tables. But the government is attempting to provide their school-going children with one meal a day.
According to the Ministry of Human Resource Development the Mid Day Meal programme, an ambitious plan to feed all of India's school children, has been going since 1925.
In recent years the Mid Day Meal has been credited with boosting school attendance and the attention span of students.
And as food becomes more expensive families are increasingly pushing their children to go to school; not just to learn but to fill their stomachs too.
Kundalik Memane oversees lunch distribution at Kanithnath Vidyalaya, a local school in Bhivri village.
He says that the government invests two cents per day, per child in this meal programme. The local women's cooperative receives a budget from the government as well as subsidised pulses, rice, oil and spices.
Mr Memane says the government is required to transfer funds to the cooperative once every two months. However he adds that some times this money does not materialise. As a result, the local women do not prepare the daily school meal and the children have to go without.
Inflated problem
Inflation has been a persistent problem for the Indian economy for nearly six years and worryingly for policy makers, Wholesale Price Index (WPI) inflation has been above nine percent for close to a year.
Experts say that the price of commodities like food has risen steadily despite a string of good monsoons and record harvests.
Sajjid Chinoy, India Economist at JP Morgan says the substantial price rises being experienced by rural India are a combination of a number of factors: supply bottlenecks, rising incomes, greater demand, and changing consumption habits.
Critically, Professor Mahendra Dev, Director of the Indira Gandhi Institute of Development and Research points out that the cost of some food items in rural areas may be two or three times higher than official figures.
WPI inflation dipped to 9.72 percent in September, down slightly from 9.78 percent in August. However, it still remains fiercely high and analysts in India widely anticipate that the Reserve Bank of India will, for the 13th consecutive time, lift interest rates later this month.
The Reserve Bank of India says that it is mindful of a slow down in economic growth and the impact that the rising cost of borrowing is having on businesses and consumers alike.
However India's Central Bank has also warned that it is not likely lower interest rates until inflation is brought under control.
The timing of India's economic woes is not great. The country is struggling to keep growth and domestic consumption on track at a time when the world's major developed markets, and some of the country's biggest trading partners, are bracing for yet another slowdown.