Anglo Irish Bank changes name to Irish Bank Resolution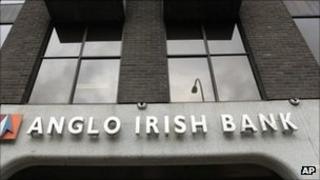 Anglo Irish Bank has changed its name to Irish Bank Resolution Corporation (IBRC).
The bank's chief executive said the move was of "symbolic importance" as a break with the past.
The name has been one of those most directly associated with Ireland's financial crisis.
Anglo Irish merged with Irish Nationwide Building Society this year. The two lenders received 35bn euros (£30.7bn; $48.5bn) of state capital.
That was more than half the entire bill for bailing out the country's banks.
The two groups have had their boards overhauled, their deposits sold off and are being wound down over the next 10 years.
IBRC's chief executive, Mike Aynsley, said in a statement: "I strongly believe that, in addition to meeting practical requirements for the merged organisation, this name change is of symbolic importance to all of us as we move on from the past."
He added: "The cost to the Irish taxpayer caused by the disastrous lending practices and poor stewardship of Anglo Irish Bank and INBS will not be forgotten or forgiven."
The bank said its customers would not have to take any action as a result and could continue to operate their accounts as normal.
IBRC said it expected the renaming process to take a few months to complete because of legal formalities and and other operational requirements.