Backpackers' Guide to the eurozone crisis: Italy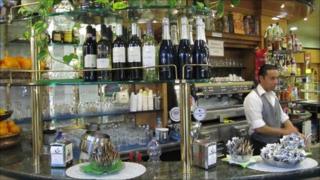 Milan might not be the Italian capital. But talk to people here, and they tell you that when it comes to fashion, finance and football, Rome can forget it.
Business leaders here are proud to describe this city as the engine of the Italian economy. The home of the stock exchange. The hometown of the Prime Minister Silvio Berlusconi. The home too of Pirelli, one of Italy's most successful companies.
So where better for our second stopover, after Monday's visit to Athens, on Radio 5 Live's Backpackers' Guide to the eurozone?
Italy finds itself in a curious place economically. There hasn't been a banking bust here. Neither was there a house price bubble. But Italy sits on top of a snow capped mountain of debt. This mountain has caused jitters in the markets and led to Italy's credit rating being downgraded.
If Italy were to default, it would be far more serious than Greece, because the bill would be far greater, dwarfing the bailout funds Europe's political leaders are negotiating.
'Enter the cage'
We were invited to interview the chairman and chief executive of Pirelli, Marco Tronchetti Provera, one of Italy's richest men.
He told us there is a paralysis, as he sees it, among Europe's political leaders. He thinks a further economic slowdown is likely and the logical solution to the eurozone crisis is further European integration.
Mr Tronchetti Provera laughs as he says the euro is a "cage."
"I think when we set up the euro, we entered into a cage and we threw away the key. I think we have to survive together. No-one can allow anyone else to leave," he says.
He is relieved his company has a customer base all over the world, offering him some protection from the economic turbulence sweeping Europe.
"Luckily, Pirelli only has 7% of its business production and sales in Italy, 45% in Europe and the rest around the world. We're not seeing any negative effects - at least for the time being."
But he is nervous about the future. "I think there will be a slowdown. It is up to Europe's governments to act to stop a recession," he says.
He is hopeful Italy can pay off its debts with a mass sell-off of state-owned assets across the country over the next decade.
But, just like the unemployed people we spoke to in Athens on Monday, he struggles to mask his frustration, even contempt, for the political classes, both here in Italy and across Europe.
He sees them as out of touch. Politics operates in the slow lane, he tells us, whereas business is in the fast lane.
'Lack of vision'
So does he trust Mr Berlusconi, the German Chancellor Angela Merkel and the French President Nicolas Sarkozy to clean up the mess?
"Not at all," he says, laughing again. "No-one can be. Our leadership didn't take the right decisions a few years ago, and now they are against the wall.
"The problems in Europe are due to a lack of vision inside politicians. They are too late. The economy moves much faster than their decision-making processes. They have to adapt themselves to this era."
So how can they do this? He sees the answer as simple economic logic, but it's one he acknowledges is fraught with political difficulties: further integration within the European Union.
"Of course, we cannot have a single currency, a single central bank, and countries setting different budget policies. That cannot last for long," he tells us.
"For the first time during this crisis, I think there is a will to get together more and more in the future. We have to get together. The politicians don't know how, but they will need to find a way."
The economic stakes are already sky high for Europe. His suggestion would perhaps raise the political stakes even higher.
Chris Mason and Chris Brindley are travelling across the eurozone all week, reporting for Radio 5 Live, the 5 Live blog and the BBC News website. They will be reporting from Greece, Italy, Germany and Belgium.