Bank chiefs question ringfencing retail operations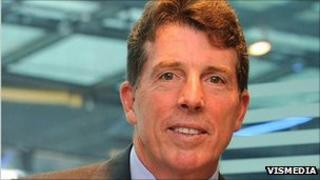 The heads of the UK's biggest banks have questioned the benefits of ring-fencing their retail operations from their investment arms, but said it was "not a make-or-break issue".
They said the move would mean higher costs and would disadvantage UK banks.
But they accepted that taxpayers should not pick up the bill if any bank should go under in the future.
A government-commissioned report recommended ring-fencing as a way to prevent another financial crisis.
The recommendations made by the Independent Commission on Banking (ICB) have not been implemented as government policy, but the bank chiefs said they were "a done deal" and were making plans to ring-fence their retail arms.
The report also recommended increasing the amount of money banks hold in reserve to act as a cushion against future losses.
The heads of Barclays, HSBC, Lloyds, RBS and Santander, appearing in front of the House of Lords Economic Affairs Committee, said this particular measure was likely to be introduced internationally, but ringfencing would not.
As a result, Stephen Hester, chief executive of RBS, said ringfencing would "work to the disadvantage [of UK banks] in competitiveness terms".
Sir Win Bischoff, chairman of Lloyds Banking Group, agreed, saying the move would "not be positive for London".
However, he conceded that, in the long term, "better capitalised banks could attract customers".
'Cost impact'
The bank heads also questioned the ICB's estimate that its recommendations would cost the banking sector between £4bn and £7bn.
The actual costs, they said, could prove to be higher, although it was too early to put a precise figure on them.
"Ring-fencing won't impact the availability of funds [to lend to businesses], but it will impact the cost," said HSBC chairman Douglas Flint.
How those costs would be met, he said, were unclear - they would either be absorbed by the banks, through lower returns to shareholders, for example, or passed on to customers.
Ana Botin, chief executive of Santander, said the higher costs would impact on small and medium-sized business customers, as it could mean that the bank would not be able to offer some services.
Lending losses
Bob Diamond, chief executive of Barclays, also questioned the value of ring-fencing, arguing that investment banking was not inherently more risky than retail banking.
Northern Rock and Bradford & Bingley had failed because of losses on lending, he said.
Mr Hester agreed that since the crisis, RBS had lost more money on "regular lending" than on its investments.
He did, however, say that the banking industry as a whole accepted the need for banks to be reformed "to the point where taxpayers don't have to put up [any more money]".