Dexia: The burden on Belgian and French taxpayers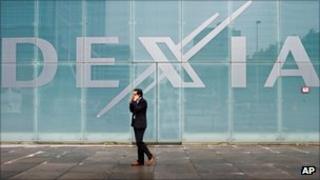 The near collapse of the Franco-Belgian bank Dexia is the event that focused the minds of eurozone leaders on the urgency of putting in place a comprehensive plan to strengthen European banks in general.
Dexia won't need to be part of that plan, itself, because today it has been rescued by Belgian, French and Luxembourg governments.
The biggest financial commitment is being made by Belgium, which is buying Dexia's retail operations.
Two nationalised French financial firms, Caisse des Depots et Consignations and La Banque Postale, are taking over Dexia's economically important business providing financing to municipal government.
And Belgium, France and - to a tiny extent - Luxembourg are also providing guarantees that lenders of up to 90bn euros to Dexia over the coming ten years would get their money back (they are guaranteeing up to 90bn euros of inter-bank and bond funding for up to a decade).
Given the size of Dexia, with a 500bn euro plus balance sheet - comparable in size to all Greek banks put together - eurozone governments viewed its rescue as vital to avoid more market turmoil. But that rescue has come at some burden for Belgian and French taxpayers.
The vital question is whether - as and when the cost of bank bailouts is disclosed in the form of the promised proposal to inject capital into all European banks that need strengthening - loans to eurozone countries like Belgium and France will be seen to be more or less at risk.