Local government pension contribution rates to rise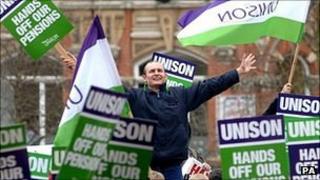 Council staff in England and Wales have been told they should pay higher pension contributions to help save the government £450m.
Employees are also being asked to save a further £450m by agreeing to a slower build-up in pensions from April 2013.
The increase in contribution rates, for staff earning more than £15,100, will be phased in from April 2012.
The average increase will be 1.5% of pay, but will range from 0.1% for the lower paid to 5% for higher paid staff.
The changes are the latest element of the government's plans to bring in radical changes to reduce the cost of providing all the big public-sector pension schemes.
Higher contribution rates from next year have already been proposed for the civil service, NHS, teachers' and fire service pension schemes.
A spokesman for the Department of Communities and Local Government (DCLG) said: "The consultation proposes a balanced mix of increasing employee contributions and adjusting the accrual rates."
"Any increases in contribution rate will progressively protect low earners and mean high earners pay in proportionally more, reflecting their more generous pensions," he added.
Brian Strutton of the GMB trade union described the local government proposals as a "shabby piece of work" that would lead to thousands of staff opting out.
"In the face of this onslaught, workers will leave the scheme and put its funding at risk," he said.
"Although there may be scope for negotiations to continue, the Communities Secretary Eric Pickles has given no cause for GMB to call off our industrial action ballot, which is planned to start on 31 October."
More to come
Meanwhile, the government has written to public service trade unions, outlining how it plans to change the existing public sector pension schemes.
These are mainly final-salary in nature, and the government wants to alter them from April 2015 to become cheaper career average versions instead.
It wants the costs of these schemes to fall much more on the employees than they do at present:
The new NHS scheme should cost no more than 20.2% of salaries, with staff paying 9.5%.
The new civil service scheme should cost no more than 20.8% of salaries, with staff paying 5.6%.
The new teachers' scheme should cost no more than 20.1% of salaries, with staff paying 9.6%.
The new local government scheme should cost no more than 17.3% of salaries, with employees paying 8%.
Paying more
Local government staff currently pay in between 5.5% and 7.5% of their salaries to the LGPS.
The interim contribution increases would lead to huge increases for some staff, particularly for the minority of higher paid employees, with the new scale of contributions rising from 5.5%, as now, to 12.5% for the very highest paid earning over £150,000.
The 31% of local government staff who earn between £21,101 and £32,400 would see their contribution rates go from 6.5% of pay to 8.3%.
Staff earning less than £15,100 would not pay any more at all.
The dilution of the accrual rate would see the build up of pension move from 1/60th of final salary each year to 1/64th in 2013, and to 1/65th in April 2014.
The government has put forward an alternative to achieve its short-term savings, in which there would be a smaller increase in the overall level of staff contributions, but a bigger reduction in their accrual rate.