Market turmoil hits pension incomes 'by £1,300'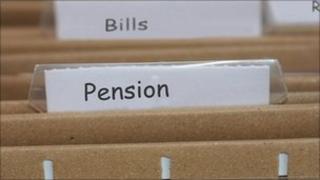 People with defined contribution pension schemes have lost an average £1,300 in likely retirement income in the last six months, a firm has said.
The actuaries Alexander Forbes, who calculated the figures, blamed the drop on falling share values and lower annuity rates.
Between the start of March and the start of September the FTSE 100 share index fell by 9% to 5,418.
Since then it has dropped another 4% to 5,066 as of last Friday.
"The last six months of 2011 have been dire for defined contribution pension savers," said Alan Carey of Alexander Forbes.
"A combination of falling growth asset values, reduced bond yields and ever increasing longevity have combined to further reduce the value of workers' pension savings."
Alexander Forbes took into account not only those about to retire, but also the effect of the recent financial turmoil on the prospects for much younger investors who have many years to go before being able to convert their savings into an annual pension.
The firm said the average defined contribution saver would be aged 41.5 years old, putting aside between 8% and 12% of their salary including their employers' contributions, and earning a rate of return on their investments of 1.5% above inflation.
Less money
Annuity broker Billy Burrows pointed out that falling bond yields have sharply undermined annuity rates - the annual income someone can expect to buy with their pot of pension savings.
"Annuity rates seem have to have bottomed out but as the benchmark 15-year gilt yield has fallen a massive 90 basis points from 3.75% on 22 July 2011 to 2.85% today further cuts are not out of the question," he said.
Last week Hargreaves Lansdown calculated that the combined effect of falling annuity rates was that a 65-year old man with a £100,000 pension pot would find it bought £926 less in annual retirement income than at the start of the year.
'Staggered'
Retired engineer Trevor Roberts, from Hertfordshire, had a pension pot worth £78,500 in August.
But despite being invested in a spread of investments he has been badly hit by the downturn in share values.
"I was staggered by what the drop in the FTSE has done to my pension pot," he said.
He said his pension pot of £78,000 at the start of May had fallen by nearly £11,000 since then.
He said he was just about to buy an annuity when the stock market took a huge dive in just three days and had now decided to bide his time.
"We are hanging on at the moment. I am not particularly happy," he said.
Shopping around
Separately, the Association of British Insurers (ABI) announced steps to encourage people to shop around for an annuity, rather than just the accept the deal on offer from the firm with which they have been investing.
The ABI said a new code of conduct for its members would stop them sending annuity application forms to customers who were saving in their pension policies.
"This will stop consumers from automatically rolling over their pension savings to an annuity with their current provider," the ABI said.
"The new code will also ensure that customers receive all the information they need to shop around in one easily accessible place," it added.
The ABI said about a third of retirees do not shop around for an annuity with their pension pot, thus depriving themselves of a potentially higher income in retirement.