UBS hopes small is less risky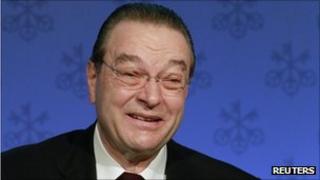 The exit of Oswald Gruebel as chief executive of UBS became inevitable when the group uncovered a £1.5bn loss on alleged unauthorised trading some 10 days ago.
For a group whose culture is supposed to be of prudence and conservatism, and which has let itself down so badly so many times in the past three years, the embarrassment demanded that responsibility was taken at the very top.
But perhaps more important than the temporary appointment as interim boss of Sergio Ermotti (who is currently head of the bank's European, Middle Eastern and African operations), pending the choice of a permanent replacement, is what the group had to say about the future of its investment bank - which is where the alleged unauthorised trading was conducted by Kweku Adoboli.
In spite of pressure in UBS's home country of Switzerland for the investment bank to be hived off, the board of UBS has decided that the investment bank would be retained and that UBS would remain a universal bank.
But that does not mean UBS's investment bankers can breathe a sigh of relief - the board authorised a radical reconstruction of the investment bank.
Gloomy forecast
UBS's investment bank will be shrunk significantly - it will take less risk, have a smaller balance sheet and use less capital. It will also concentrate exclusively on providing services to clients, rather than trading for its own account.
This is significant for London and Wall Street, where UBS has big operations.
In London, for example, UBS is where the ghosts of the famous stockbrokers Rowe & Pitman and Phillips & Drew, and the merchant bank Warburgs still linger (these businesses were acquired by UBS in the City's massive upheavals of the past 25 years). If the spirit of these old London firms hadn't quite been extinguished, it may well be now.
UBS's investment bankers are gloomy. They believe that the shrinkage of the bank will see them retreat from the premier league of investment banking. Some tell me they will jump ship before being pushed.
And it could get worse, they say. The investment bankers are waiting with some anxiety to hear what Mr Adoboli advances in court in defence of his huge loss-making bets on stock-market indices.