Trading Standards takes cash and complaints from loan firm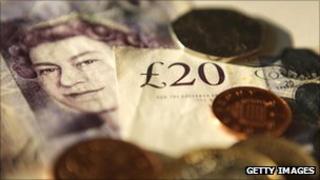 Trading Standards is taking consultancy payments from a firm which is also the subject of customer complaints.
West Yorkshire Trading Standards (WYTS) received payments from online loans broker SGE Loans in exchange for regulatory advice.
But some customers claim that SGE Loans has debited their bank accounts without consent - a claim SGE Loans denies.
WYTS says such partnerships are necessary because of budget cuts but its integrity remains unaffected.
WYTS says it has received over £88,000 ($137,500) since April 2011 from a total of 47 companies with which it has similar partnerships.
It confirmed that it only started charging SGE Loans for its detailed advice in that month, but would not reveal the precise sum it had received from SGE Loans, citing commercial confidentiality.
However, it did reveal that it had investigated a number of complaints made against the company.
Unauthorised payments
One customer who contacted the 5 live Investigates programme, Lianne Gray, says she rang SGE Loans in August of this year.
She says she was reassured that no money would be taken out of her account if she decided not to take out a loan.
"I then discovered two days later that the company had taken £79.99 out of my bank, which I could not afford to lose because I'm on benefits," she said.
"I am absolutely disgusted with how I have been treated."
5 live Investigates contacted SGE Loans on Ms Gray's behalf and her money was subsequently refunded five weeks after it had been debited.
David Dutfield had a similar experience when he called SGE Loans in June.
"I was told on the phone that no money would leave my account if my loan was below £200, which is what I was after.
"Yet when I came off the phone I found that £69.99 was taken from my account."
Following inquires made by the BBC, Mr Dutfield has also been refunded following more than three months of dispute.
West Yorkshire Trading Standards confirmed, in several instances, recordings of customer calls revealed that some SGE Loans staff had not fully explained the terms of its business and did not warn customers they were liable to pay an upfront fee, which could be refunded after a 14 day cooling-off period.
WYTS says SGE Loans subsequently took disciplinary action and retrained staff who made such mistakes.
SGE Loans chief executive Sally Hill told the BBC that SGE Loans did not debit money from customers' accounts without authorisation.
In a written response, she said that SGE Loans had never refused to refund money to a customer who had cancelled within the 14 day cooling-off period, if the company's service had not been used.
'Error of judgement'
Leeds-based SGE Loans has what is called a Primary Authority Partnership with West Yorkshire Trading Standards, which means that the branch deals with complaints made against the company from across the UK.
The company also has a commercial contract with WYTS, paying for advice about legal and regulatory issues.
During the course of its investigation, 5 live Investigates discovered SGE Loans featured a West Yorkshire Trading Standards logo on its website.
When asked why the logo was being used by the company, WYTS said: "Initially, and possibly naively, this service [WYTS] assumed that this would be taken for what it was - a statement of fact that we and the business had a Primary Authority partnership.
"However, we now recognise that people are assuming that this is an endorsement of the business."
As a result, WYTS has asked SGE Loans to remove the logo from its company website.
When asked if it felt compromised by taking payment from firms it was also receiving complaints about, WYTS told the BBC:
"We refute any allegation that being in a Primary Authority Partnership with any business means this service does not undertake its duties, including to deal with complaints impartially, in anything but a professional manner."
WYTS also says that its relationship with SGE and other businesses helps them to understand the legal framework within which they operate, and "get it right", thus saving taxpayers money in the long run.
Marc Gander, from Consumer Action Group, told 5 live Investigates that it was inappropriate for a regulatory body to be funded in this way and said it was "a grave error of judgement".
"Trading Standards should distance themselves from all companies and it would be better for all of us if all businesses regarded Trading Standards as a threat and something to be worried about," he said.
WYTS, in common with Trading Standards offices around the UK, is under severe financial pressures as it faces budget cuts.
Planned local government spending on Trading Standards across England has been reduced overall by 11.4% in 2011/12, and in Wales by 7.4%.
WYTS says it faces budget cuts of 22% and this has has made it a necessity to charge companies such as SGE Loans for its regulatory advice.
Some 443 of 538 Trading Standards departments responded to a survey by 5 live Investigates - 18 said they received income from private companies in exchange for regulation and compliance advice.
You can hear the full report on 5 live Investigates on Sunday, 2 October at 21:00 BST on BBC Radio 5 live.
You can listen again on the BBC iPlayer or by downloading the 5 live Investigates podcast.