Federal Reserves launches 'Twist' stimulus initiative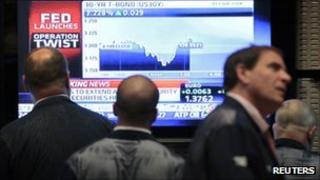 US and Asian shares have fallen after the Federal Reserve launched a scheme - dubbed Operation Twist - to help stimulate the flagging US economy.
The Fed will sell about $400bn (£260bn) worth of bonds maturing within three years and buy longer-term debt.
This puts no new money into the economy, but aims to keep long-term interest rates low, thereby boosting mortgage lending and business loans.
But a gloomy Fed warning on the economy sent the Dow Jones index down 2.5%.
In late trading in Japan, the Nikkei index was also down more than 2%.
"Recent indicators point to continuing weakness in overall labor market conditions, and the unemployment rate remains elevated," the Fed said in a statement.
"There are significant downside risks to the economic outlook, including strains in global financial markets."
Scepticism
Operation Twist involves the Fed buying long-term bonds, which pushes their price up, lowering the interest rate, or yield.
Analysts said the Operation Twist move was larger than had been expected, and comes after leading Republicans this week urged the Fed not to intervene in the economy more than it has done already.
The Fed has already pumped tens of billions of dollars into the US economy via two rounds of quantitative easing (QE), under which it creates money to buy assets to try and boost demand.
Some observers were expecting a third round of QE, and many expressed scepticism about how successful the new policy might be.
"Frankly, I don't see it having any meaningful impact on the economy," said Bernard Baumohl, chief global economist with the Economic Outlook Group.
Paul Ashworth at Capital Economics suggested the Fed was using the wrong policy instrument.
"The cost of borrowing simply isn't the problem," he said.
"Businesses don't have the confidence to invest and half of all mortgage borrowers don't have the home equity needed to refinance at lower rates."
First used in the 1960s, Operation Twist was named after the dance craze of the time.
The move by the Fed comes amid deepening gloom about the global economy, with the International Monetary Fund slashing growth estimates for the US, Europe and Japan earlier this week.
On Wednesday, the Bank of England said members of its Monetary Policy Committee had considered a new round of QE to pump money into the economy.