Tepco considers job cuts as part of restructuring plan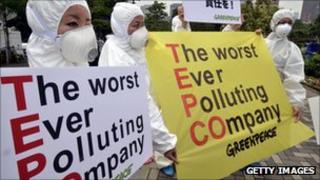 Tokyo Electric Power Company (Tepco), the owner of the stricken Fukushima Daiichi nuclear plant, is considering cutting thousands of jobs.
Reports say Tepco has told a government backed committee that it may cut as many as 5,000 jobs or 10% of its workforce.
The committee is expected to announce a restructuring plan for Tepco next week.
Tepco recently reported a $15bn (£9.5bn) loss and faces $100bn in compensation claims.
The committee, led by lawyer Kazuhiko Shimokobe, held a meeting on Tuesday, which was also attended by Tepco's Chief executive Toshio Nishizawa.
Mr Nishizawa told local reporters after the meeting that Tepco was considering reducing its workforce and also cutting pensions for retirees.
Tepco's spokesperson Naoki Tsunoda confirmed to the BBC that the proposals were being considered, though no details had been finalised.