Chicken trade dispute between US and China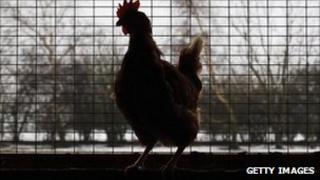 The US has opened a new front in its battle for better access to Chinese markets by asking the World Trade Organization to look at Beijing's taxes on the billion-dollar chicken trade.
Washington claims China violated trade rules by imposing tariffs on US chicken imports, threatening farmers' jobs.
Other recent US filings to the WTO include complaints about steel product duties and wind power subsidies.
"China must play by the rules," said US Trade Representative Ron Kirk.
He said import duties imposed by Beijing last September have ruined a market that had been worth $1bn (£636m) to the US, putting 300,000 agricultural jobs at risk.
"We will not stand still if we believe that China has violated its commitments as a WTO member and is therefore threatening American jobs," said Mr Kirk.
China was one of the top two markets for US chicken exports before the tariffs were imposed. The other was Russia.
There was no immediate response from Beijing.