Gazprom signs three European gas pipeline partners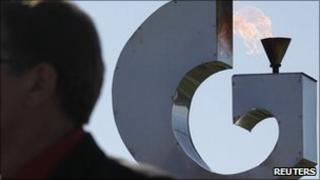 Three European energy companies have signed a legal agreement with the Russian gas export monopoly Gazprom to build the South Stream gas pipeline into eastern Europe.
France's EdF, Italy's Eni and Germany's Wintershall will take a 50% stake in the project and Gazprom the other 50%.
Eni will have a 20% share while EdF and Wintershall have 15%.
The South Stream pipeline will transport Russian natural gas to Europe under the Black Sea.
It is expected to supply six countries - Bulgaria, Serbia, Hungary, Slovenia, Austria and Italy - in one leg and another four - Croatia, Macedonia, Greece and Turkey - in a second leg.
Construction is expected to begin in 2012 with gas expected to start flowing in 2015.
Global race
Eni's chief executive Paolo Scaroni told Russian news agencies that the construction of the underwater section alone was set to cost $10bn (£6.4bn).
The main rival to the South Stream project is the EU-backed Nabucco pipeline, which is set to carry gas from the Caspian region to Austria, passing through southern Europe.
In a statement, Wintershall's chief executive Rainer Seele said: "In the global race against Asian countries for raw materials, South Stream - like Nord Stream - will ensure access to energy resources which are vital to our economy."
Gazprom's latest results showed a sharp rise in demand from European customers, with demand up 40% on the previous quarter.