Ryanair swaps fee-avoiding cards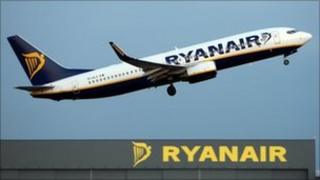 Ryanair passengers must sign up for a new branded pre-paid card available from 4 October in order to avoid an administration fee of £6 per journey.
Passengers using Mastercard pre-paid cards, which currently exempt them from the fee, will be charged from November.
The airline will instead only waive the charge for those who sign up to the new Ryanair Cash Passport.
However, as with many pre-paid cards, charges are levied for withdrawing cash or not using the card for six months.
Charges
The specific type of card that avoided the Ryanair administration fee had previously been changed from the Electron card to Mastercard pre-paid cards.
A Ryanair spokesman said that 25% of all UK bookings were made using a Mastercard pre-paid card.
He said that the airline hoped to increase this proportion by changing to the new Cash Passport card that, unlike the current cards, would be available on its website.
The card will need to be pre-loaded with cash before any booking is made. There will also potentially be additional costs to anyone who signs up for the new card.
It will initially cost £6 to buy, although each customer will be given a £6 Ryanair travel voucher.
Other charges include:
A £4 charge for withdrawing cash from the card over the counter at a bank
A £2 fee for using the card at an ATM
A 50p charge for all transactions, other than Ryanair bookings, from April 2012
A rolling fee of £2.50 if a card is not used for six months
However, there will be no charge for topping up the card with money.
The spokesman said the card would be rolled out to other European countries in the coming months.
Surcharge inquiry
The airline engaged in a dispute with the chief executive of the Office of Fair Trading (OFT) last year.
John Fingleton said that the airline was being "puerile and childish" over its payments policy and used a legal loophole to justify charging the extra fee.
But the airline argued that passengers preferred this model of "avoiding costs".
The OFT has since held an inquiry into card surcharges for passengers booking travel online. Ryanair said that its charge was for administration purposes, such as the cost of running a website, rather than a surcharge for using a credit or debit card.
In July, Ryanair said that its fares would rise by an average of up to 12% in the year to the end of March 2012 as fuel prices rise.
It reported that pre-tax profits for the three months to the end of June came in at 156.6m euros ($225m; £138m), up 50% from the same period last year.