Eurozone manufacturing sector contracts in August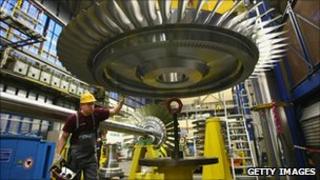 Manufacturing activity in the eurozone shrank in August for the first time in two years, a survey has indicated.
The Markit Manufacturing PMI measure for the eurozone fell to 49.7 from 50.4 in July. A reading below 50 indicates contraction in the sector.
Manufacturing has driven a large part of the economic recovery in the 17-nation bloc.
Markit also said that the service sector in the eurozone grew only modestly.
Its service sector PMI measure fell to a 23-month low of 51.5 in August from 51.6 in July.
In Germany, Europe's biggest economy, output grew across both manufacturing and services but showed the weakest rate of expansion for almost two years.
The French service sector saw growth pick up in August but manufacturing output fell for the first time since June 2009.
Outside the eurozone's two largest economies, output fell for the third month in a row.
"The eurozone economy grew only marginally again in August, suggesting that recent months have seen the weakest expansion for two years," said Chris Williamson, Markit's chief economist.
"The data raise the prospect that economic growth in the third quarter could be even slower than the disappointing 0.2% rise seen in the three months to June.
"Most worrying is the near-stagnation in Germany, which suggests that the region's main engine of growth has stalled."
'Sceptical' investors
A separate survey from the Zew Centre for European Economic Research indicated that German investor confidence slumped in August.
The Zew Indicator of Economic Sentiment, which surveys analysts and institutional investors, dropped a massive 22.5 points to stand at minus 37.6, far below its historical average of 25.9.
"The fear of a recession in the United States together with the downgrade of the credit rating of US bonds has further increased macroeconomic uncertainty," Zew said.
"Due to increased macroeconomic uncertainty, the critical development in the eurozone and the disappointing data on German GDP growth in the second quarter of 2011, financial market experts are far more sceptical now with respect to future economic growth."
Last week, the national statistics office said the German economy grew by just 0.1% in between April and June.