EU chief Van Rompuy welcomes 'crucial' Italian measures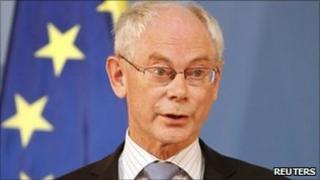 The President of the European Council, Herman Van Rompuy, has welcomed Italy's new austerity measures and said they are "crucial" for the entire eurozone.
Mr Van Rompuy issued a statement after speaking to Italian Prime Minister Silvio Berlusconi on Saturday evening.
On Friday, Mr Berlusconi announced a 45bn-euro ($64bn; £40bn) plan aiming to balance its budget by 2013 by cutting public spending and raising taxes.
But Italy's largest union criticised the plan and threatened strike action.
'Inequity'
The latest package marks Italy's second austerity budget in as many months.
"I fully support and welcome the timely and rigorous financial measures," Mr Van Rompuy said.
"I underlined that these approved measures are crucially important not only for Italy but for the eurozone as a whole."
However, Susanna Camusso, the head of the CGIL union, said the package "hits only those who already pay their taxes", and said the union would hold an emergency meeting on 23 August to decide on a date for a general strike.
"I can't see any other way to oppose the inequity of this austerity plan," she told the daily La Repubblica newspaper.
Euro bonds dispute
Meanwhile, Italian Finance Minister Giulio Tremonti has called for a more co-ordinated response to the eurozone debt crisis ahead of a crunch meeting between French President Nicolas Sarkozy and German Chancellor Angela Merkel on Tuesday.
Mr Tremonti advocated proposals for the eurozone to issue new bonds backed by all 17 member countries, so-called euro bonds, which can be used to finance loans to financially stretched member states.
"We would not have arrived where we are if we had had the euro bond," he said on Saturday.
But German Finance Minister Wolfgang Schaeuble rejected the idea, saying that such bonds would undermine the basis for the single currency by weakening fiscal discipline among member states.
"I rule out euro bonds for as long as member states conduct their own financial policies, and we need differing interest rates so that there are possibilities of incentives and sanctions to force fiscal solidity," he told German magazine Der Spiegel.