Cheques: Fight still on to prevent demise, says Age UK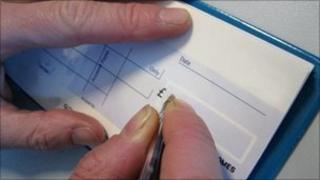 The future of cheques remains in jeopardy with specific plans needed to restore faith in the payment option, according to Age UK.
The charity was forthright in opposing previous plans to replace cheques by 2018 - a proposal which has now been discarded.
But it said there was still a chance that cheques would "wither away".
The Payments Council, which oversees payments strategy, said banks were committed to a future for cheques.
A spokeswoman said that banks and building societies would continue to provide cheques for as long as customers needed them, a point later echoed by RBS which is majority-owned by the taxpayer.
Confidence 'undermined'
Original plans for a managed withdrawal of cheques, with a target date of 2018, prompted an outcry among groups representing the elderly and others who used cheques.
Criticism of the industry plan reached a peak this year, with the hostile reception from the Treasury Committee of MPs in April. Its final report will be published on Thursday.
The weight of opinion, including views from the public, led to this plan being dropped in July.
However, Age UK is now calling on the banking industry to do more to bolster confidence in cheque use, especially following the end of the cheque guarantee card system - which ensured some cheques were honoured.
"Confidence in cheques was seriously undermined when the guarantee card was abolished. We need to know there are definite plans in place to restore trust in them otherwise cheques will simply be allowed to wither away and their demise will be blamed on lack of demand," said charity director Michelle Mitchell.
"Cheques are too important to many older people to just fade away, particularly as the banks and building societies have not come up with an alternative payment system which is safe and accessible and allows people to maintain their financial independence."
A spokeswoman for the Payments Council said that there had been a commitment from the banks to continue to provide cheques, but they could not control whether consumers continued to use them or whether retailers carried on accepting them.