Is Europe facing its own Lehman moment?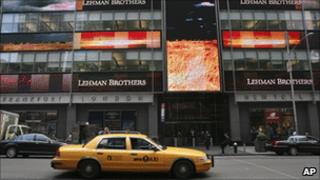 Although bankers say the downgrading of America's credit rating was unwelcome, their more pressing worry is the rising price that Italy has to pay to borrow - the falling price of Italian government debt.
And they feel that only the European Central Bank (ECB) can restore some kind of confidence that Italian borrowing costs won't rise to dangerous levels.
Bankers and investors want to see the ECB buying Italian debt, in the way it has previously bought Irish, Portuguese and Greek debt.
If the ECB fails to do that on Monday, there is a serious risk of further turmoil in share and bond markets.
Which is why a rare emergency meeting Sunday night of the ECB's governing council is being seen as vitally important - because not all members of the governing council are in favour of buying Italian debt.
As one banker said to me, it feels a bit like the nerve-wracking weekend in September 2008 when the future of Lehman Bros, the US investment bank, was in the balance.
On that occasion, the US government was perceived to have made the wrong decision, by letting Lehman fail.