Italy and Spain growth stays slow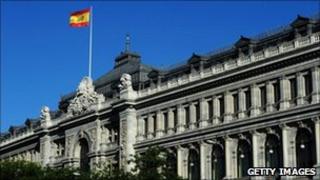 Official GDP figures from Italy and a forecast from the Spanish central bank suggest economic growth remains slow in both countries.
Italian GDP rose 0.3% between April and June, up on 0.1% growth in the first quarter, according to the Italian National Statistics Institute.
The Spanish central bank predicted GDP growth of 0.2% during the same period. It grew by 0.3% last quarter.
The bank called for decisive action by eurozone leaders.
In both countries, the economic data suggests growth remains very weak.
"The information available in the second quarter suggests a weakening in activity in an environment marked by a deterioration in the eurozone debt crisis," the Spanish central bank said in its monthly report.
The bank also called for domestic action in Spain to accelerate planned structural reforms aimed at reducing the country's deficit.
In Italy recent survey data suggests the economy has worsened since June.
"There will certainly be a slowdown in the second half on the basis of purchasing managers indexes that have weakened sharply," said Giada Giani an analyst at Citigroup.
Weak economic growth lowers tax revenues and makes it harder for both countries to tackle their deficits.