Average house prices up slightly, Halifax says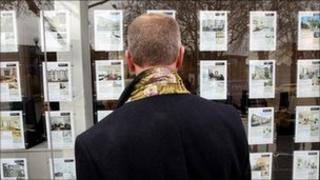 House prices have gone up for the third month in a row, according to the Halifax mortgage lender.
Its latest monthly survey says they rose in July by just 0.3%, leaving them 2.6% lower than a year ago at £163,981.
The lender explained that over the last three months prices had been 0.5% higher than in the previous three.
That was the first such increase in 14 months, indicating that prices were stabilising, according to its housing economist Martin Ellis.
"Overall, there has been little change in either the level of house sales or the number of properties on the market for sale since late 2010," he said.
"These steady market conditions have helped to stabilise house prices in 2011 following last year's modest decline.
"This pattern is expected to continue over the rest of the year with little genuine direction in either house prices or sales," Mr Ellis added.
The interactive content on this page requires JavaScript