Government growth plans 'in danger of failure'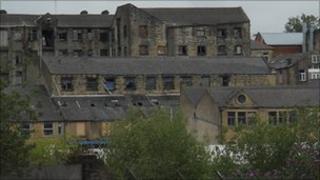 Local Enterprise Partnerships are at the heart of the government's plans for jobs and growth, but some insiders fear that without specific powers or substantial funds, they may not be up to the job.
Zero business rates for five years, simplified planning and access to super-fast broadband - one of the government's new "enterprise zones" would have been a welcome boost for a city with high levels of deprivation such as Bradford.
So there was disappointment for some when it was announced that the successful bidder was neighbouring Leeds, one of the wealthiest cities in northern England.
Enterprise zones are at the heart of the economic growth strategy of the coalition government, which announced last year that the former publicly-funded Regional Development Agencies would be replaced by Local Enterprise Partnerships, or LEPs.
'Downward spiral'
Many LEPs will have an enterprise zone to act as a magnet for business.
But their remit - to stimulate economic growth rather than to revitalise areas of dereliction - has led to local resentment, as places in desperate need of revival lose out to more affluent competitors when enterprise zone sites are selected.
Businessman Mark Cowgill, born and bred in Bradford, says: "This is a vast area that has been underdeveloped for over a decade now.
"For 15 years, Bradford has been on a downward spiral."
Bradford's councillors submitted a bid for an enterprise zone to boost their long-standing proposal to rejuvenate the city centre.
Close to the City Hall is a vast hole in the ground which for years has been intended as a new shopping centre, but which remains an eyesore.
The plan for an enterprise zone appealed to local businesses looking for a new site to expand operations and grow their workforce.
Mark Cowgill calculated that he could take on up to 10 more staff in his hi-tech computer business if he were able to move into a local enterprise zone.
I met him in the University of Bradford's enormous new student village, where he was putting the final touches to the hardware for the internet system.
He was downhearted, having recently learned that Bradford's bid had been rejected in favour of an area of agricultural land on the eastern edge of Leeds.
"It is very frustrating when you see your neighbours a couple of miles away getting help, when they have already had hundreds of millions of pounds of government development," he says.
But Neil McLean, a property development lawyer who chairs the LEP based in Leeds, is adamant that the selection of a greenfield site in prosperous Leeds is in line with government policy.
Missed opportunity?
It may have received little notice, he says, but Whitehall has made a clear break with past approaches by indicating that enterprise zones should be chosen first and foremost for their potential to attract fast-growing businesses.
"The very clear guidance in the enterprise zone prospectus said that it should be principally a 'clean site', ie a site principally free of buildings," he says.
"That is not regeneration, it was not intended to be a vehicle for redeveloping areas in need of redevelopment."
To the opposition in parliament, this represents a missed opportunity.
Labour's shadow business secretary, John Denham, believes the government has turned its back on the whole idea of regeneration and preventing disconnected communities becoming further adrift.
"That has simply been abandoned," he says.
But Business Minister Mark Prisk calls this "nonsense".
"Of course there will be some areas that will be regenerated, but we haven't tried to narrow it in that way," he says.
"The enterprise zones are seeking to ensure that they help those areas grow."
And enterprise zones are not the only area of concern.
There are fears that LEPs, the broader organisations tasked with encouraging investment and generating jobs, could themselves fail in some areas.
Among experts and insiders, File on 4 found a widespread view that a number of Local Enterprise Partnerships will succeed, but that many others will prove to be little more than short-lived talking shops.
Even Neil McLean, chair of the LEP based in Leeds, has told the BBC he believes some of the other LEPs will not survive.
"There is a risk that LEPs could fizzle out, partly because the private sector could just lose interest," he says.
He believes there is a "very clear" danger that some of the new bodies will fail.
"If they do not get an adequate level of sources of funding with adequate powers, then there is a risk they simply will not deliver," he says.
A letter from Mr Prisk, leaked last November, seemed to reflect this fear.
It said there was a "key message" that LEPs could suffer from a "lack of credible business representation" and spoke of "likely failure in large parts of England" if business organisations become detached from the policy.
Mr Prisk now says the government is considering what extra powers the LEPs should be given, and insists he feels less doubtful of their success.
"We have taken the view that of the 38 that have been formed, the encouraging sign is that they've done that very quickly," he says.
"There has been some squabbling, that happens. But I am a little more confident than Mr McLean of the way in which LEPs will develop."
File on 4 is on BBC Radio 4 on Tuesday 9 August at 20:00 BST and Sunday 14 August at 17:00 BST. Listen again via the BBC iPlayer or download the podcast.