BMW unveils electric car division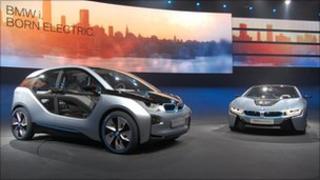 German carmaker BMW has unveiled two new models to launch its electric motoring division BMWi.
The i3 is an all-electric small city car, while the i8, a powerful sports car, combines an electric motor with a three-cylinder combustion engine.
To reduce weight, the cars have been constructed with light-weight aluminium under structures and bodies made from strong and light carbon fibre.
That means their batteries can be smaller without compromising on range.
"We wanted to show the carbon fibre in the raw," Ian Robertson, group sales and marketing director, said in an interview.
German jobs
The i3 city car, which will hit the road in 2013, will have a range of 150km (95 miles) on one charge.
Both the batteries and the motor lie below the floor of the car, which maximises space inside. The car seats four and has a 200-litre luggage space.
The less spacious but more aerodynamic i8 sportscar is a prototype, though a production version will go on sale in 2014. Its electrics-only range is more limited, at only 35km.
BMW will create 800 jobs at its Leipzig factory in Germany, where the cars will be built.
Flexible production
BMW is cautious about predicting how strong demand for electric cars will be in the future.
"We will make tens of thousands of these vehicles during the first few years," is all Mr Robertson is prepared to say at this stage.
Much depends on regulation, which is beyond the company's control, he insisted, such as in cities where many expect authorities to restrict access for cars that pollute.
However, the relatively simple production process for its BMWi models, which does not involve a press shop or a welding shop and keeps paintwork to a minimum, means "it is much easier to ramp up production than with conventional production", Mr Robertson insists.
BMW is hoping to launch several more similar models in the years to come, and as a number of other carmakers are thinking along the same lines, we can expect light-weight carbon-fibre cars to become a prominent part of electric motoring in the future.
Volkswagen, for instance, recently unveiled a model it calls XL1, which seats two adults, combines a 0.8 litre two cylinder diesel engine with an electric motor.
The car is constructed around a carbon fibre reinforced polymer monocoque to reduce the weight dramatically when compared with conventional cars. A monocoque design doesn't use an internal frame or chassis.
McLaren's recently launched sportscar, MP4-12C also uses carbon fibre to reduce its weight. The car is built around a single carbon fibre monocoque.