US recovery gets a downgrade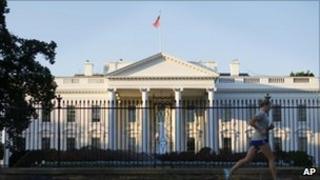 The White House will see a silver lining in today's grim GDP figures, if they help to remind the negotiators on Capitol Hill of the fragility of the US recovery.
The first estimate for growth in the second quarter shows that the US needs a crisis over financing the basic functions of government like a proverbial hole in the head.
But the most shocking thing about today's release was not the headline figure for the second quarter, which showed annualised growth of 1.3%, well below the consensus of around 1.8%.
No, the shock came in the revised version of the recovery before that. The economy is now thought to have grown just 0.4% annualised in the first three months of 2011. We had thought that GDP grew by 1.9% in Q1.
Translating those figures into the quarterly numbers the rest of the world use, that means the US grew by just 0.1% in the first quarter, and by 0.3% in the three months after that, an even worse performance over the first 6 months of 2011 than the UK. (Though the US grew nearly twice as fast as Britain in 2010.)
The official assessment of America's great recession has also changed, with the economy now thought to have shrunk by 5.1% over the course of the downturn, not 4.1% as previously thought.
The significance of that change is that the US cannot now be said to have got back to where it was before the recession hit in 2007, unlike Germany and France.
In the US recently, it has become commonplace to cite the UK as a cautionary tale: a demonstration of the economic costs of cutting spending early in the recovery.
Even the Wall Street Journal had a story on the UK GDP figures this week, headlined "UK Pays Growth Price for AAA Rating".
Critics of the chancellor would happily agree with that US version of events, but Mr Osborne might be tempted to ask, if he's to blame for Britain's feeble recovery how do you explain America's?