Arcelor Mittal sees 'no repeat of 2010 slowdown'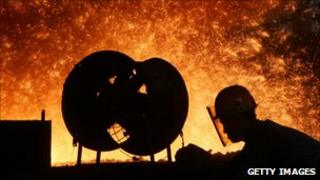 The world's largest steel maker, Arcelor Mittal, has forecast a seasonal dip in the third quarter, but said there would be no repeat of the pronounced slowdown seen last year.
Steel makers were hit hard during the financial crisis as construction and car sales plunged.
The forecast came as the company announced an 11% drop in second-quarter net profit to $1.54bn (£937m).
This was largely as a result of the spin-off of its stainless steel unit.
Stripping out this impact, net profit would have been down 2.8%.
Sales were up 25% to $25.13bn.
"As expected the company has delivered a strong performance in the second quarter of 2011 underpinned by higher steel selling prices," said chief executive Lakshmi Mittal.
"Although the third quarter will experience some seasonal impact, we do not expect this to be as pronounced as last year, and overall the group's performance in the second half of 2011 should compare favourably with the second half of 2010."
Demand typically dips in the third quarter, which is the northern hemisphere summer, although steel makers also currently face a slow recovery in demand in the US and Europe.