GlaxoSmithKline returns to profit on cost-cutting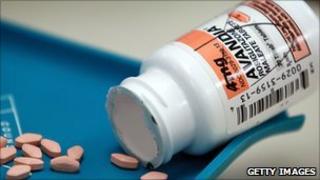 GlaxoSmithKline has returned to a second-quarter profit thanks to its continuing cost-cutting programme.
The UK drugmaker unveiled a £1.1bn profit for the three months to 30 June, compared with a £304m loss last year.
The profit boost came despite a 4% drop in sales as administration costs were almost halved.
Glaxo swallowed a £1.6bn charge to settle litigation over diabetes drug Avandia, banned in Europe because of a suspected link to heart disease.
Shares rose 1.9% in early afternoon trading.
Sales excluding Avandia, pandemic flu products, and herpes drug Valtrex - which was hit by growing competition - rose by a total of 5% during the quarter.
Glaxo expects to present clinical trial results on 44 drugs that are in the final stages of testing by end of 2012.
The drugmaker also promised to shave off a further £300m in costs, as well as reduce tax and interest charges, in the second half of this year.
Sales were £6.7bn for the quarter.