BG shares higher as natural gas prices boost profits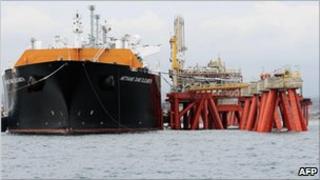 UK gas producer BG Group shares have risen 4.1% after it unveiled strong second-quarter figures.
The firm's pre-tax profits rose 27% to $1.12bn (£684m) from the same period in 2010 due to high natural gas prices.
Revenues also rose, up 26% to $5.1bn between April and June.
The company, which in May cut its output growth forecast for 2011, said gas and oil production rose 3% in the quarter compared with the same period last year.
Shares were at £14.84 in morning trade.
The higher output followed the resuming of normal operations for BG's sites in Egypt and Tunisia, which were affected by the countries' civil unrest earlier this year.
In June, the company doubled its estimates for natural gas in the Santos basin in Brazil to the equivalent of six billion barrels of oil, and it has made cost savings in drilling and extraction in the country.
BG chief executive Sir Frank Chapman said: "We made good progress in both our exploration and production and liquefied natural gas businesses.
"We have invested $4.4bn in organic growth in the first half and made good progress across our major growth projects in Australia, Brazil and the USA; progress that continues to de-risk the delivery of our growth programme."