Iran in '$10bn deal to export gas to Europe'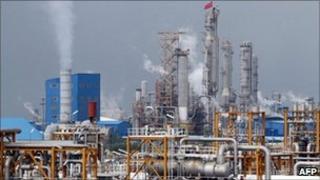 Iran has signed a preliminary $10bn (£6.25bn) deal with Syria and Iraq to export some of its natural gas, local media have reported.
The memorandum of understanding signed by oil ministers from the three countries would see a 3,100 mile pipeline built through Iraq, Syria and Lebanon to the Mediterranean.
The deal may allow exports of gas to Europe - according to the Iranian Oil Ministry's website, Shana.
It would also supply gas to Syria.
Iran has roughly 28 trillion cubic meters of natural gas - the second largest reserves in the world according to research by BP.
The pipeline would allow it to export gas from the South Pars field, which it shares with Qatar.
Qatar is currently a major gas exporter to the UK - though that comes from different fields.
International sanctions and disagreements with foreign investors mean that Iran's reserves remain relatively undeveloped.
In 2009, Iran signed a $4.7bn contract with China National Petroleum Corporation to help develop part of the South Pars reserve - replacing France's Total which it had accused of delays.
However, in June this year, the country's Mehr news agency quoted Iranian officials criticising the Chinese company for not investing fast enough.