Swiss drug firm Roche says earnings declined this year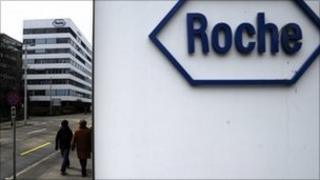 Swiss drugmaker Roche has said earnings fell 5% in the first six months of the years.
Profits were 5.26bn Swiss francs ($5.78bn, £4bn), down from 5.57bn Swiss francs during the same period last year.
But Roche forecast that earnings would rise by 10% this year.
The company is embarking on a cost-savings exercise, cutting 4,800 jobs over two years in order to save 2.4bn Swiss francs.
Roche shares were previously hit by a US Food and Drug Administration panel ruling that its doctors should stop using its best-selling cancer drug Avastin in breast cancer patients.
A final verdict by the FDA on the drug's use is expected next week.