Bernie Ecclestone in Formula 1 bribe probe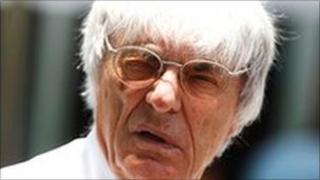 Formula 1 supremo Bernie Ecclestone has been named by prosecutors in Germany as allegedly bribing a former banker during the sale of the sport in 2006.
Gerhard Gribkowsky, in charge of the sale of BayernLB's stake in F1, stands accused of taking a $44m (£27m) bribe.
In return, prosecutors allege, Mr Ecclestone received $41.4m in commissions from the bank, as well as a large payment to a family trust.
Mr Ecclestone said he expects to be cleared of any wrongdoing.
A court will now decide whether Mr Gribkowsky will stand trial on the charges.
The allegations revolve around the sale of BayernLB's stake in Formula 1 to private equity group CVC Capital Partners, which still owns the commercial rights to the sport.
CVC said it had no knowledge of any alleged payments to Mr Gribkowsky.
The firm bought majority control of F1 from Bernie Ecclestone's family trusts and a group of investment banks.
Mr Ecclestone remains F1's chief executive and retains a large shareholding in the sport.