Goldman Sachs profits 'disappoint'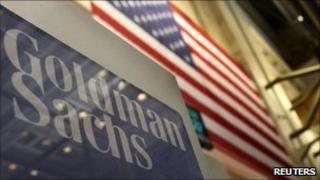 Second-quarter profits at Goldman Sachs have missed expectations as the Wall Street bank's revenues from fixed income trading dropped sharply.
Net profit for the three months to June rose 77% on a year ago to $1.09bn (£676m), but this was below forecasts.
Revenues in the fixed income, currency and commodities segment fell 53% from a year ago, hurt by slower activity because of weak economic growth.
Goldman said the results in some divisions were "disappointing".
Overall net revenues fell 18% to $7.28bn.
Shares in Goldman fell 2.2% when trading began in New York but finished the session 0.5% higher.
Meanwhile, Bank of America reported a record quarterly loss of $8.8bn, after agreeing an $8.5bn settlement related to sub-prime mortgages.
Industry leader
Goldman chief executive Lloyd Blankfein said the operating environment in the second quarter had been "more difficult given global macro-economic concerns".
"In addition, certain of our businesses had disappointing results as we reduced our market risk in response to attempting to manage fluctuations in prices and market liquidity," he said.
Michelle Gibley, an analyst at Schwab Center for Financial Research, said: "They're seen as an industry leader and are expected to print better numbers than this."