Jamie Oliver and Sainsbury's end their partnership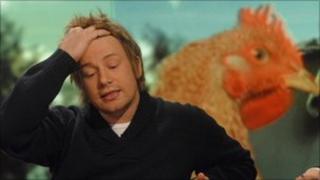 TV chef Jamie Oliver is ending his partnership with supermarket group Sainsbury's after 11 years.
The chef, whose deal with the firm was thought to be worth £1m a year, has been involved in more than 100 TV adverts and many other projects.
Mr Oliver and Sainsbury's will end the partnership with a final advertising campaign this Christmas.
He said in a statement: "I'll miss [Sainsbury's], but it's a good time to move on."
Sainsbury's chief executive Justin King said Mr Oliver had been an "excellent ambassador" for his company.
The chef said he wanted to spend more time on his social projects through the Jamie Oliver Foundation.
Mr Oliver had the power to turn products into best sellers. A 2005 advert in which he grated nutmeg over a spaghetti dish meant weekly sales of the spice soared by 400%.
But he also crossed swords with the firm during his campaign against battery hens. Sainsbury's eventually stopped selling eggs from battery hens.
Mr Oliver said: "It's been a fantastic 11 years and together we have achieved some great things. I've made some great friends at Sainsbury's and I know we'll still be talking for years to come."