UK retail sales stabilise in early summer sales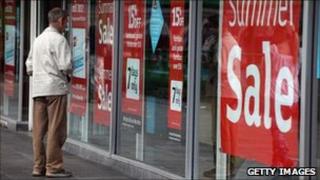 UK retail sales slowed their annual rate of decline in June as shops began their summer sales early this year.
Like-for-like sales still fell 0.6% from a year ago, according to the British Retail Consortium, but it follows a 2.1% drop seen in May.
Smaller home goods items were the main winners from early clearance sales, with big ticket items still suffering.
"Underlying conditions are still tough," said the BRC's director general, Stephen Robertson.
Clothing and footwear - particularly for women - showed no improvement, with the BRC suggesting this may be because shoppers already did much of their clothes shopping for the year during the warm weather seen in April.
The past month has seen several failures of High Street brands, including furniture chain Habitat, department store TJ Hughes, fashion chain Jane Norman and Moben-owner Homeform.
Other companies, including chocolate firm Thorntons, music store HMV and children's goods retailer Mothercare, announced shop closures.
The total value of sales in June rose 1.5% versus a year ago, the BRC said.
"These figures are not as bad as they could have been," added Mr Robertson. "But it shows just how tough times are when total sales growth of 1.5% is regarded as not that bad."