Q&A: News Corp's bid for BSkyB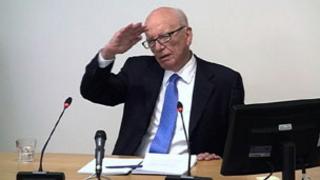 Culture Secretary Jeremy Hunt is under pressure after documents released to the Leveson Inquiry revealed close contact between his special adviser and News Corporation during its planned takeover of satellite broadcaster BSkyB. But how did we get to this point?
Why did News Corporation want to take over BSkyB?
Rupert Murdoch's News Corporation is the parent company of both News Group, which published the News of the World newspaper, and part-owner of BSkyB.
It already owned 39% of the satellite broadcaster, and wanted to buy the remainder of the company, having indicated it would pay 700p a share - although analysts expected the final price would be much higher.
BSkyB is about to become a cash cow. Having done most of its infrastructure investment and secured a large slice of the pay-TV market, the money should start rolling in.
Also, News Corp saw huge opportunities to offer BSkyB customers more bundled and cross-promotional deals with the media empire's other assets, such as the Times newspaper. It would create a powerful group able to deliver media across many platforms in this new digital age.
So what happened?
There was a lot of opposition, notably from rival media groups and MPs. Business Secretary Vince Cable was secretly recorded saying he had "declared war" on Mr Murdoch. As a result, he lost the right to arbitrate on the deal, a role which transferred to Culture Secretary Jeremy Hunt.
At one point, it seemed like a done deal. The European Commission had already cleared the takeover on competition grounds, and Mr Hunt had said previously that he was "minded" to approve the takeover.
And what changed?
It became apparent that the News of the World's involvement in phone hacking and in paying police officers for information was more widespread than first admitted. Allegations that murdered schoolgirl Milly Dowler's phone was hacked, and concerns about the police's relationship with the NoW caused widespread anger and condemnation.
The NoW editor at the time Milly Dowler went missing, Rebekah Brooks, had become chief executive of the UK division that runs News Corp's newspapers. She denies knowing about the alleged hacking.
So is the bid now dead?
Yes. First News Corp announced that it was withdrawing an undertaking to spin off its Sky News operation into separate company. Putting Sky News at arm's length was part of the deal to clear the BSkyB.
Withdrawal of the undertaking meant Culture Secretary Jeremy Hunt referred the bid to the Competition Commission. News Corp's announcement was seen as a tactical move to keep its bid alive for the next few months, despite the furore and calls for it to be blocked.
As anger increased, News Corp closed the newspaper in July 2011. Days later, it withdrew its bid for BSkyB. Prime Minister David Cameron said News Corp should focus on sorting out the wrongdoing at News International.
So how come the takeover attempt has put Jeremy Hunt under such pressure?
Documents released to the Leveson Inquiry into press ethics revealed close contact between his special adviser and News Corporation during its planned takeover of satellite broadcaster BSkyB.
Mr Hunt was meant to be acting in what he himself described as a "quasi-judicial" role in deciding whether the proposed merger should be referred to the Competition Commission for final approval.
His special adviser Adam Smith has resigned over what he admitted was an inappropriately close relationship with News Corporation.
And David Cameron will decide whether the culture secretary broke any rules - under a ministerial code of conduct, ministers are responsible for the actions of their special advisers - after Mr Hunt has given evidence to the Leveson Inquiry in mid-May.
But is a line drawn under the matter for BSkyB?
No. Broadcaster regulator Ofcom announced in April 2012 that it has stepped up its inquiry into whether BSkyB is a fit-and-proper company to hold a broadcast licence.
It has asked News Group newspapers for more documents disclosed in the civil cases relating to phone hacking.
Any company - or its directors - which hold a broadcasting licence must be "fit and proper" to do so. There are worries that the NoW was out of control and that some executives and journalists tried to cover up the mess.