Coventry at work: Leaving council amid 'bleak times'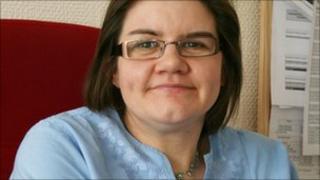 After 11 years in the public sector, I'm finally moving on.
It's been quite a change, but I'm convinced that I've made the right decision.
With any major transition in life there is always some excitement about doing something new, but it is mixed with a little fear since it's difficult not knowing exactly how things will be.
Some of the questions swirling round my head include, have I been institutionalised and how will I get on with everyone else?
My last role was with Coventry City Council, working in a very large directorate making sure that business support systems were in place.
I've also worked in the NHS with projects in health, social care and community safety.
Unsettling times
For most people at the council, the last few months have been quite bleak in many ways, knowing that big changes were afoot.
We knew huge savings would have to be found but where would the cuts be made?
Living in a state of change from all sides wasn't the most settling for anyone.
The mood and morale were low for many people who were just functioning in their jobs, not sure as to how much effort they should put in if their job wasn't going to be there, and for others, working at a fever pitch to prove their worth in their jobs.
I didn't actually lose my job or walk away with a pot of money. I just came to the conclusion that now was the right time to make a very big leap into a new career.
New start
I left the council in April to take up a new role as director of operations for the Association of Christian Counsellors (ACC), a national umbrella organisation for Christian counsellors and pastoral carers.
I want to help make sure that when people need help like befriending or counselling, then if they approach a Christian organisation or church, they'll know that it's done to a high standard and the person who's helping them is properly equipped to do the job and give great support.
The organisation's members have clients from all walks of life, many of whom will be affected by the current economic situation and the greater uncertainties in life when faced with lots of change.
Many ACC members give their time unpaid to counsel or give pastoral care, but some who earn a living from their counselling sessions can face financial challenges if their clients can no longer afford to pay for their sessions.
We approve standards in training and some of our funding sources have been lost. That's because people who counsel are normally aged over 35 and the government's new emphasis is on training for 16-to-19-year-olds, which isn't appropriate for our members.
Uncertain income
For me, it's been an interesting transition into the voluntary and faith sector where money is less, but goodwill is greater.
The move from an organisation that has extremely complex internal systems, with guaranteed income, to one which exists slightly more fluidly is quite a culture shock at times, but I like that challenge of finding a new middle ground.
Also, I am now relying on external sources of income from our members and seeking some funding streams which are practically non-existent.
ACC has been providing what the government's Big Society is intending to do for the last 20 years but it seems to be quite hard work to get the funding to continue this.
'A new normal'
I am aware of how change is unsettling and can affect people in different ways. And in this current economic climate, there is a lot of change happening on many levels.
For some, it makes you re-evaluate what you're doing, for others, it's the fear of the unknown or that things won't be the same.
I have been through some major changes during my life - moving cities due to job changes, moving houses, having children - and the biggest change for me was when the man I was married to died suddenly seven years ago.
Life as I knew it had changed and it took me time to find a new normal.
Now I also want to help other people who have gone through bereavement or change to help them find a way through that.
My friends would say that this is my dream job, bringing together my passion and my skills, and a dream of doing something like this for many years, so I would say even in today's economic climate it is still possible to do the things that you really want to do - to have a purposeful life!