Comet unveils 7% sales fall as turnaround gets underway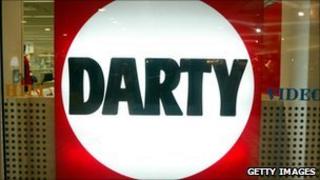 UK electronics chain Comet saw a 6.8% slump in sales in the last 12 months, pushing it into a 10m-euro (£9m) loss.
But the poor showing did not prevent parent Kesa from chalking up a 2.3% rise in adjusted profits before tax, to 93.2m euros, for the year to April.
Comet's poor performance contrasted with Kesa's French unit, Darty, which saw 5% growth in sales for the year.
"We have a strong turnaround plan for Comet to restore its profitability," said chairman David Newlands.
"In parallel, we are examining strategic alternatives to ensure the best overall value for shareholders."
Store closures
The turnaround would involve implementing at Comet the "processes that underpin the Darty concept", according to Kesa's full-year results statement.
The company said it had been particularly successful in developing its online sales business, although it said the launch of a new web platform for Comet - which it intends to develop further - had disrupted sales at the UK business in the second half of its financial year.
Kesa is thought to be considering eventually selling off its loss-making UK business, with any sale expected to involve the closure of some of Comet's 250 stores.
The parent company confirmed that "17 of its Comet stores will be closed or exited, nine will be right-sized and seven will be retained and refurbished in the next three years", with nine closures during the current year.
A sale of Comet would probably also result in the delisting of Kesa from the London Stock Exchange, leaving the holding company with a listing in Paris.
Kesa said that Comet had "lost a small amount of market share in a market estimated to have been flat, particularly in large white goods".
The Anglo-French group's full-year adjusted profits slightly beat market expectations of a 90m euro figure, but still fell short of the company's own forecast.
"We have made progress against our strategic agenda despite the challenging market conditions," said chief executive Thierry Falque-Pierrotin.
He added that he anticipated markets would continue to be challenging during the current year.