Glencore profit jumps on oil and grain demand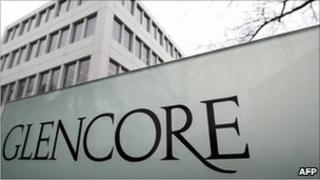 Commodities trading giant Glencore has reported a sharp rise in profits and revenue thanks to strong demand for grain and oil in particular.
Net profit for the first three months of the year was $1.3bn (£800m), up 47% on the $886m the company made a year earlier. Revenue was up 39% to $44.2bn.
These are the first results Glencore has published since becoming a publicly-listed company last month.
The listing was London's largest initial public offering.
Glencore shares fell 1.8% following the results announcement, and are now trading at 513.8 pence, down from their launch price of 530p.
'Healthy demand'
The company highlighted the performance of its oil division that saw "substantially improved results". It said both oil and grain sales were well ahead of the first quarter last year.
Last Updated at 23 Mar 2018, 16:30 GMT
price
change
%
358.50 p

-

-0.70

-

-0.19
It also said it benefited from increased volatility and tighter supply in commodity markets.
The firm said it was "well positioned" for the rest of the year, when demand for commodities and general economic activity would "remain healthy".
"Our first quarter results show that Glencore continues to deliver a strong return on equity," said the firm's chief executive Ivan Glasenberg.
Glencore's directors and employees still hold about 80% of the company, making them extremely wealthy on paper.
Glencore is the world's largest commodities trader, employing about 57,500 people across more than 40 countries. It made a profit of $3.8bn on revenues of $145bn last year.
It trades metals and minerals, as well as energy and agricultural products, and has benefited from the recent growth in demand for commodities, especially from China.