Poor nations boost arms spending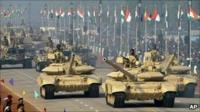 Military spending by major developing countries grew faster than the global average last year, according to the Stockholm International Peace Research Institute (Sipri).
Globally, military spending grew just 1.3% in 2010 - a notable slowdown compared with the previous decade.
This was partially a result of a "delayed effect of the global economic crisis", Sipri said.
Spending rose by 5.8% in South America, 5.2% in Africa and 4.1% in Oceania.
In Europe, military spending fell by 2.8%, data in the Sipri yearbook revealed.
The US remains the world's largest spender on the military arena, accounting for 43% of the global total of $1,630bn (£995bn)
'Upward trend'
The Sipri yearbook also highlighted how the world's 10 largest defence and security companies gained the most from military spending.
Seven of the 10 firms were based in the US, one in the UK, one in Italy, and one was trans-European.
These companies sold arms worth between $11bn and $34bn each during 2009, according to the most recent data.
"Arms producers and military services companies continued their upward trend in arms sales," Sipri's Susan T. Jackson observed in the yearbook.
The world's largest 100 defence and security companies, as per Sipri's ranking, clocked up sales of more than $400bn last year.