Inflation in US food and fuel prices slows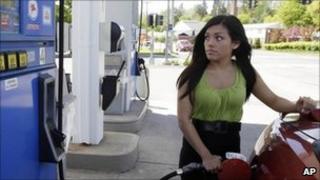 Inflation in the US slowed in April, mainly due to smaller price rises in fuel and food.
Consumer prices rose 0.4% in April, having risen 0.5% in March, according to figures from the Labor Department.
Petrol prices rose 3.3%, down from March's 5.6% increase, while food prices were up 0.4% compared with 0.8% the month before.
Core CPI, which excludes food and energy, rose 0.2%, following March's 0.1% increase.
Rising prices of new vehicles and used trucks were responsible for the core rise.
Spending squeeze
"The real story is that core is edging up. There is a clear acceleration in the core number in recent months," said James O'Sullivan, chief economist at MF Global in New York.
"Clearly the core number has moved away from the deflation zone in the last six months. It's just a matter of time when the Fed will tighten."
Consumer prices were up 3.2% compared with April 2010, following March's corresponding figure of 2.7%.
Core CPI rose 1.3% on the year, up from an annual rate of 1.2% in March.
Rising fuel and food prices are squeezing consumers, whose wages are not keeping up with them.
Average weekly earnings adjusted for inflation fell 0.3% in April, having declined by 0.4% in March, the Labor Department said.