US new home permits rise 11% in March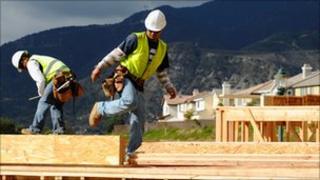 The US housing market regained some ground in March after the number of permits for new-build homes rose by 11.2% compared with the previous month.
However, the recovery was from a very low base. February saw the lowest number of permits issued since 1963.
Home construction also rose 7.2% between the months to a seasonally adjusted 549,000 units, according to the US Commerce Department.
But the market remains weak with plenty of unsold and repossessed homes.
Millions of foreclosures have forced home prices down, meaning in some cities, prices are half of what they were before the housing market collapsed in 2006 and 2007.
Other figures underlined the fragility of the market.
The number of new homes finished and ready to sell dropped in March to the lowest since records began in 1968.
Data out on Monday also showed that confidence among home builders remains depressed.
The National Association of Home Builders said its index of industry sentiment for April fell one notch, to 16.
Any reading below 50 indicates negative sentiment about the housing market's future, and the index has not been above that level since April 2006.